Our favorite park in New Delhi is Lodhi Park. Not only is it a large and lush park in the middle of an enormous city, it also offers tranquility and peace as well as beautiful archeological structures that proudly stood the test of time. Lodhi Gardens in New Delhi is a must to visit, we will tell you why.
Short history of Lodhi Gardens
Lodhi Park wasn't always just a pretty garden for joggers and family picnics. In the 15th century it was the place where the Sayyid Dynasty built a tomb for their late ruler Mohammed Shah. Later the Lodhi Dynasty did the same for their ruler Sukander Lodi. In fact the Lodhi Gardens, also spelled Lodi, are full of historical structures of archeological value. When Emperor Akbar occupied the throne of Delhi, he used this area as an observatory and had built a library to store the records.
Over time the grounds were occupied and turned into villages. In 1936 under British rule, the garden was renovated and the villagers thus removed. At first the gardens were called Lady Willingdon Park. Named after the wife of the Governor General of India at that time, who had taken it upon her to turn the area into a beautifully landscaped garden.
After India gained its independence from Britain the gardens received their current name Lodhi Gardens. It was redesigned and expanded in 1968 by late American architect Joseph Stein. He landscaped the garden anew and added the glasshouse to the park. Joseph Stein contributed greatly to the architectural landscape of New Delhi. He designed the Indian International Center, Indian Habitat Center and the American Cultural Center to name a few. Read about him more here.
What to do in Lodhi Gardens
Yoga Field
As you come into the park from the Lodhi Road entrance. You will be greeted by an archeological structure from the Lodhi Dynasty. Before it stretches out a large meadow especially reserved for yoga practices. And indeed you will find any given time and day people practicing yoga, teachers instructing a class or school kids hanging around (although they usually picnic).
Jogging
All around the park is a running trail. We have ran the trail ourselves and it brings you past lovely scenes, the pond, historical tombs from hundreds of years ago, palm trees, bamboo forests you name it. At the time we were there before COVID we actually saw many foreigners, expats or students or so, jogging the trail as well. This time we were there last June, we hardly saw any foreigners except for a few tourists (who did not come for jogging). As you run along the trail, make sure to stop and admire the historical structures, see next point. At the north entrance on Subramanian Bharti Marg is the runners club meeting point. Check it out for yourself, we have no connections or personal references.
Admire the archeological sites
Everywhere you look in Lodhi Gardens you will see a historical structure of at least 500 years old. Most are tombs, Gateways or Mosques from the Lodhi dynasty or Sayyid dynasty. Despite being so old and of such archeological importance you can actually still climb the tombs and go inside. I am not assuming this will be the case for a very long time, so while you can, you might as well admire the intricate carvings, beautiful architecture and historical energy. Check out the Bada Gumbad mosque, Bada Gumbad gateway, the Shah Tomb surrounded by majestic palm trees, or the Sikander Lodi Tomb with its impressive stone wall surrounding it. And don't miss the Athpula or Eight Pier Bridge, a beautiful 16th century stone bridge constructed during Emperor Akbar's reign, consisting of seven arches and supported by eight columns.
Have a picnic
In the weekend you will see many families have a picnic on the large lawn at the Lodhi Road entrance. It is a busy and happy sight with children running around, teenagers climbing the Bada Gumbad structures and elderly sitting on benches. During the week you can spot school children having a picnic in the park. It is a favorite pastime and when you are in Lodhi Gardens, you might as well have your picnic too. Need inspiration what to take? Check out some popsicle recipes here or this recipe for a yogic cake perfect for a picnic.
Enjoy the flora and fauna
Lodhi Gardens is proud to be home to many different birds and butterfly species. There used to be a big sign with 30-40 different bird species that reside in Lodhi Park, but recently they replaced it with a cooler, but simpler, bird board. Nevertheless, there are over 50 different kinds of species butterflies and birds in the park. What flora concerns there are more than 100 different species of trees in the park. There is even a special part of the park reserved for bonsai trees (see National Bonsai Garden below) .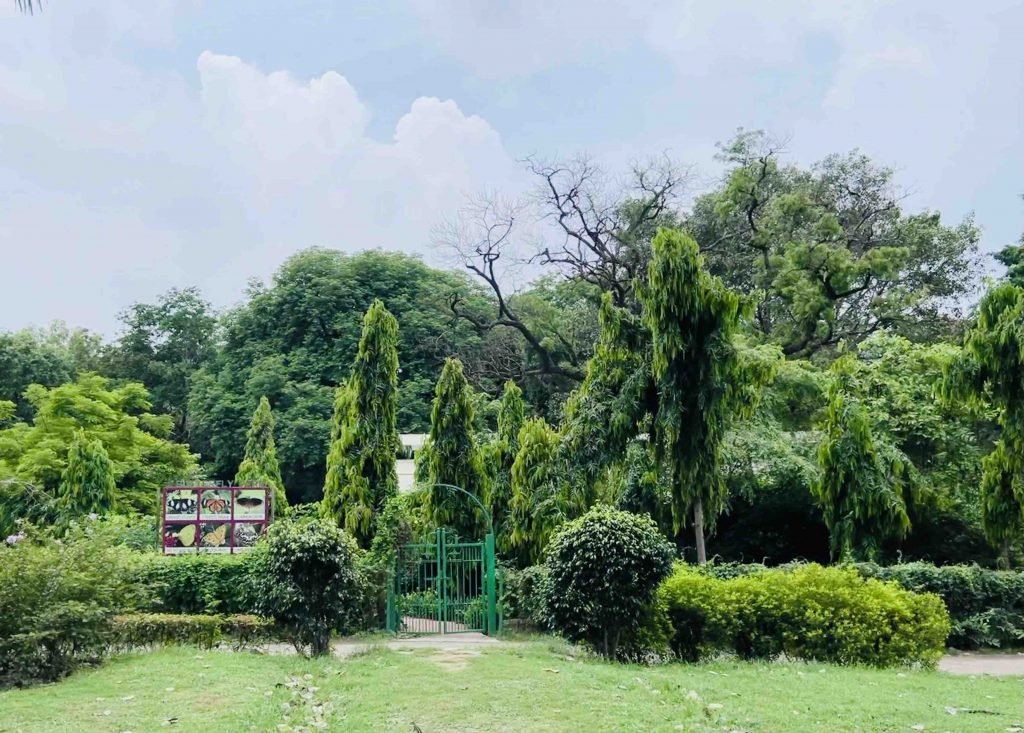 Different Gardens in Lodhi Park
Lodhi Gardens in New Delhi is a large park of about 90 acres. Not one part looks the same as you walk through. It has many hidden, smaller garden-sections for you to check out.
Butterfly Garden
Although closed most of the times we were there, the butterfly garden is a lovely addition to the Lodhi Park. Located east of the yoga field a little hidden behind lots of bushes. Nevertheless, you can easy recognize it because of the large sign with different butterflies of the park on it.
Nursery and Glass greenhouse
At the other end of the Lodhi Park – near the back entrance – is a lovely nursery with plants and trees in pots as well as a beautiful colonial style greenhouse. Nice to stroll around or to sit down nearby for some peace and quiet.
Swan lake
Also located at the 'end' of the Lodhi Park is a beautiful lake complete with adorable bridge and overhanging trees otherwise known as 'Swan Lake'. I believe the lake is officially called less lovingly "artificial pond', but you will immediately recognize it because of the swans and the many white geese.
Herb Garden
Next to the Yoga field is also a little patch with herbs. It is a little overgrown and the weeds have found their way, but nevertheless it is a herb garden. There are little nameplates that help you identify the different herbs and spices.
National Bonsai Garden
Do you like bonsai? Please visit the national bonsai garden in the Japanese section of the Lodhi Park. The gardener responsible for the bonsai is so proud of his work. And rightfully so. Every imaginable tree can be admired in miniature form, some as old as 50 years.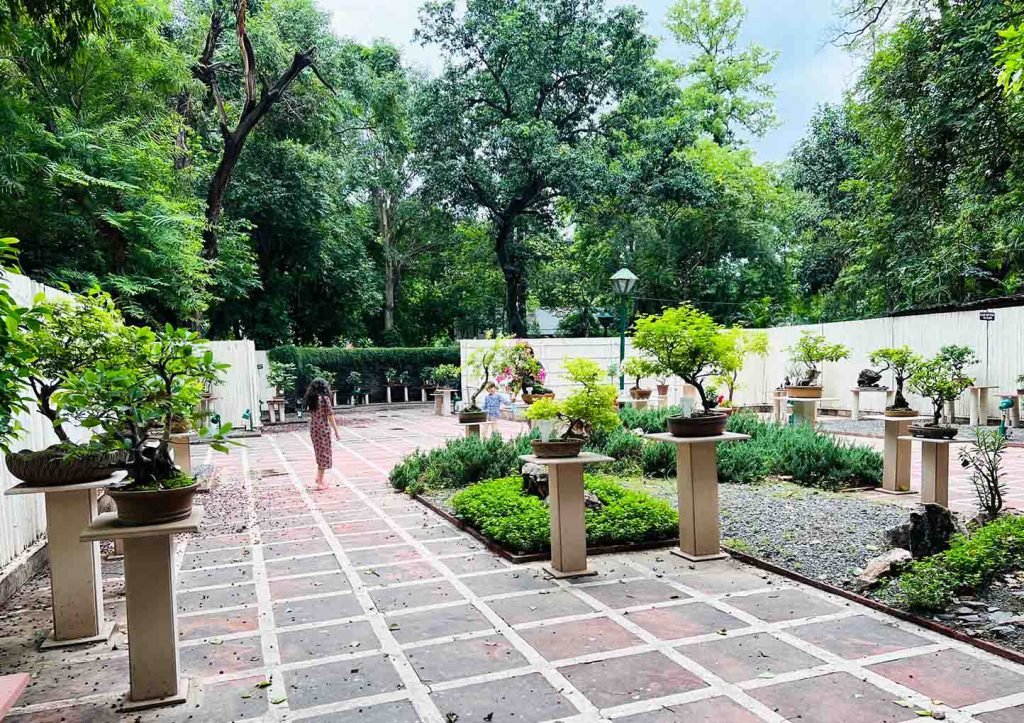 Where is Lodhi Gardens
Lodhi Gardens is situated between Lodhi Road and Subramanian Bharti Marg on the North and South side. Max Mueller Marg and Amrita Shergill Marg on the east and west sides. The best entrance for the Bonsai garden and yoga lawn is on Lodhi Road. For the pond and the bridge enter via the Subramanian Bharti Marg entrance.
We hope you will enjoy Lodhi Park just as much as we do!
Namaste and SatNam