dairy free, refined sugar free, butter free, egg free, nut free
Everybody knows how a hot cup of honey, lemon and ginger tea helps you feel better when you have a soar throat. Add to that a pinch of turmeric, a natural anti-inflammatory agent, and you're good to go in no time. This Ginger Honey Lemon cake is inspired by all the goodness of that hot cup of ginger tea.
You may think ginger and honey is something for the winter. Curled up on the couch, with a book in your hand and a big mug of ginger, honey and lemon thee. Or for when it is storming outside, the rain coming down in buckets. And you are right, it is excellent for those days. Just not ONLY for cold and stormy weather days.
Yogic Foods
Ginger
Ginger is a wonderful root that helps your nervous system and detoxes your body. We use ginger in my household in almost everything. In our chai and herbal herbal tea, in our curries and sauces, scrambles and sautés. And, as you can see today, also in our ginger honey lemon cake! If you are more of a chocolate cake lover, check out our anti-oxidant rich Chili Cherry Chocolate Cake for Anahata, Heart Chakra. Or our delicious and super simple Apple Galette if you are more of an apple-pie kind of person
Turmeric
I added Turmeric to this cake, because turmeric is such a powerful anti-inflammatory agent. It is yet another ingredient I put in everything we eat. Smoothies, curries, potatoes, stews, teas, stir fries, (n)ice cream, you name it, I add a little pinch (or a big one). Turmeric is also great for the joints, skin and female reproductive organs by the way.
Check your Chakras
As loyal readers and followers of YogicFoods, you know that we love to use ingredients from the yogic diet with yogic health benefits for everything we make and bake. Not only is it tastier to cook with beneficial fruits, vegetables, herbs and spices. It is also better for you! It gives your body a chance to detox and offers your mind a chance to calm down. Yoga is all about keeping those chakra gears running. A blocked chakra results in imbalances that are shown in physical and mental health issues. That is why it is important to know which chakra is in need of some oiling. 
This ginger honey lemon cake is no exception. The spices and ingredients we used following the yogic diet are not only beneficial for your health, but also chime with your chakra. We already learned that honey with ginger and lemon are great for the throat. It must come as no surprise that this cake benefits Ajna, the Throat Chakra.
Our YogicFoods Apps help you figure out which chakras you need to strengthen. To do so we offer meditations, suggest yoga poses and mantras and offer lots and lots of delicious recipes. Our recipes are always vegetarian, use no eggs, no white butter or refined sugar. We have many vegan, gluten free and nut free options. 
Follow our blog, our YouTube channel, Instagram or Pinterest pages or get our YogicFoods Apps from the AppStore to keep yourself informed and inspired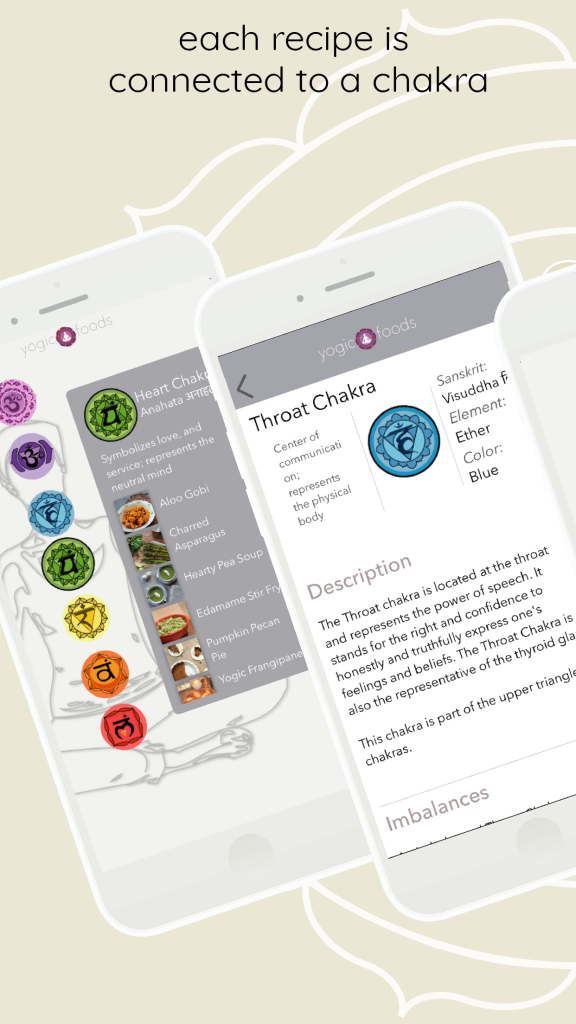 Be open and honest
For this cake I used a 6" diameter cake pan. I use it often, because it makes an adorable little cake. We are just the four of us and especially during lockdown we don't share our food with anyone. As a matter of fact, we haven't seen anyone in months! Throat Chakra, is all about honest conversation, speaking your mind and feeling confident to do so. When you are all together cooped up in your apartment (like us) there are times everybody needs some alone time. Take it! But remember to always express your feelings, share your thoughts and be honest about what is going on in your head. Have cup of ginger, honey and lemon tea and a nice slice of this delicious cake and start talking. Who knows what beautiful and inspiring conversations may follow.
Have a look at the baking utensils I recently bought to make this cake so cute!
Recipe:
1 3/4 cup unbleached all purpose flour
1/2 cup coconut sugar
1/2 tsp turmeric powder
1 1/2 tsp ginger powder
1 tsp baking soda
1/2 tsp salt
1/4 cup honey
2 tbsp ginger paste
1 tsp vanilla extract
1 cup hot water
6 tbsp olive oil
1 tbsp fresh lemon juice
Whisk together the flour, coconut sugar, turmeric powder, ginger powder, baking soda and salt. Set aside. Add the honey to the hot water and stir until the honey is dissolved. Add this mixture to the dry ingredients together with the oil, vanilla, lemon juice and the ginger paste. Whisk until it is a smooth batter. Pour into a 6"/15cm diameter cake pan (prepared with baking paper or greased) and bake on 350F/175C for 55-60 minutes
Remember, it is your cake, so add more ginger if you like or less. You can use grated fresh ginger or ginger paste from a jar. I used Trader Joe's frozen ginger paste (thawed first).
Watch it
If you rather watch how it's done, here is the video I made.
All these ingredients together make this delicious, gingery, soft and delicious cake. Wonderful to have with a cup of tea on a stormy day or on a sunny afternoon, you choose 🙂
Sat Nam and Namaste
Caroline & Gurpreet

YogicFoods is a blog about yogic foods, yogic diet and living a yogic lifestyle. Live the way you think is best for you. We share our experiences, give tips, share recipes and hope to inspire.
Note; This blog article contains affiliate links. These links will bring you directly to Amazon and the product page. You pay the normal Amazon prize for this product and I get a small commission from Amazon. This way you support our blog and make it possible to keep blogging and adding recipes to our website and apps. Thank you.