10 best Natural Halloween Candies
Halloween is coming. Kids are looking forward to candies and treats, parents are dreading the aftermath. Here are the 10 best natural halloween candies.
I have been sharing with you the past months many articles about sugar and snacks. You were especially happy with my "10 Secrets to Triumph Treats and Snack Time" article. A good read to get tips and ideas to make snack time easier and healthier. Thank you for all your support.
Did you also check out my latest blog post, " Why My Kids Eat Sugar" ? It may be a great eyeopener. Of course we follow the Yogic Diet, but it may be helpful to see the bigger picture. It was quite a struggle and there was lying and secrecy involved! We came a long way since then.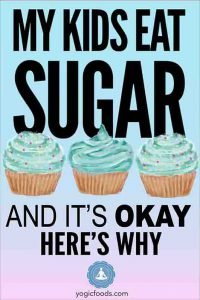 Nevertheless, we do not allow them just anything they want. If the kids have a desire and the pressure gets too high, we find a natural and healthier alternative. This way they can still enjoy the candy that their classmate had, the children in the books ate or what they see in the grocery store. It is just the natural version of it.
OUR RULES
The Yogic Diet allows some natural sugars, like honey or fruit (dried fruit, fruit juice). So we will do our best to find candies and treats that fit that description. That being said, we chose the 10 best natural halloween candies, following our own rules.
No artificial coloring or additives
Without high fructose corn syrup
No gelatin (yuk)
Organic gets a bonus point
Fancy candy that turns out to be only fruit, gets you to the top!
1) BEAR fruit yoyos
Coming in on first place in our 10 Best Natural Halloween candies list, are these fruit strips. In my opinion, the best candy to give away on Halloween (or birthday parties). Long strips of rolled up sweet chewy candy. Which are in fact 100% only fruit. Vegan, gluten free and nut free. They look cute and are individually wrapped, who wouldn't want to grab one of those?
2) Marshmallow
In case you want to make little ghost candies. Or maybe just because you really like marshmallows, do yourself a favor and skip the high fructose corn syrup and choose these healthier versions from Dandies. They are made without high fructose corn syrup and without gelatin. That gives us at least some peace of mind. And our kids liked them because they toast well too.
3) Gummy Bears
It is the bear shape that makes gummy bears so cute and attractive, isn't it? If your Trick or Treaters expect these bears shaped candies with Halloween , at least choose these from Project 7. These gummy bears are made with less sugar and without artificial anything or gelatin. Project 7 makes a ton of tasty treats with less sugar and natural ingredients. However, not all of them are made without gelatin, so be ware.
4) Annies Organic Fruit Bunnies
These are a personal favorite and especially great for Halloween or parties. Tasty, cute little bunny candies flavored with fruit juice. Because they are packed in individual little packets great to hand out. Organic ingredients, so they get a BONUS POINT! All natural, gluten free, vegan and without high fructose corn syrup. Naturally, they deserved a place in our 10 best natural halloween candies list.
5) Coconut Chocolate Bar
Coconut on the inside and chocolate on the outside. Who doesn't want that!? Obvisouly the original bounty bars are filled with artificial everything, so we were happy to find this natural – and bit less sweet – alternative.
6) Layered Chocolate Wafers
Number 5 in our list of 10 Best Natural Halloween Candies are crispy chocolate wafers. Made with FairTrade chocolate and sustainably sourced palm oil, these Little Secrets Chocolate wafers are not only all natural and made with less sugar. They give you peace of mind as well. Nothing Scary here!
7) UnReal Gems
The focus of UNREAL is to offer candies with natural colors and less sugar than conventional candies. That is one of the reasons, these are great chocolate candies to hand out with halloween. And these treats are individually packed so no germsy hands grabbing in a bowl of candies. A well deserved spot in our 10 best natural halloween candies list.
8) Organic Fruity Chewy Candy
These fruity chewy candies from Lovely are organic and that is worth a BONUS POINT, hurrah. Although, they do contain sugar, they are free of high fructose corn syrup. These candies have individual wrappers, which makes them easy to hand out. Another good reason to add to our 10 Best Natural Halloween Candies list. Furthermore, they are vegan, so no gelatin, non-GMO and gluten free.
9) Fruit sticks
Looks cute, check. All natural, check. No sugar added, check! These great fruit snacks are from Bob Snail. Coming in on 9th place in our 10 Best Natural Halloween Candies list, because these do not look like any conventional candies and aren't natural alternatives of any popular or famous treats. Nevertheless, Children will grab these because they look so cute, though. Besides that, they are Vegan, Gluten free, Fat free, basically everything free, because it is just fruit.
10) Jelly Beans
Jelly Belly is definitely not known for its low sugar or all natural candy. Hence our very surprised faces and raised eyebrows when we came across their organic fruit juice flavored jelly beans. Although these treats are fruit juice flavored, they are not really very much lower in sugar than the conventional ones. However, what they did take out was corn syrup and artificial flavors and colors. The Jelly Belly Beans made it to the 10 Best Natural Halloween Candies list, nevertheless it is the lowest on number 10. No gelatin, thank goodness.
MAKE YOUR OWN
If you cannot justify buying any of these treats from our 10 Best Natural Halloween candies list . You can always make some yourself. Sure, they may not look like candies. Nevertheless they are delicious, they are refined sugar free and follow the Yogic Diet, just like you are used from us.
I've got you covered with these recipes below, available on our YogicFoods Apps.
Every parent, as far as I know, struggles with the temptation of sugar. We found a balance with it and I'm happy I could share with you the reason why my kids eat sugar. Of course, balance is key. They don't eat sugar all the time, always, everywhere!
Making and eating wholesome food that fulfills and satisfies both your body and your mind is the wonderful gift of the Yogic Foods diet. Following a yogic diet has a lot of benefits and makes it easier to eat healthy.
That is the reason why we made these 3 beautiful recipe apps. Full of yogic diet recipes for every day meals, special occasions, savory and sweet treats. Every app has its own fantastic recipes so YOU can eat healthy and well!
Our YogicFoods original app is the first in our trilogy and filled with beautiful recipes and family favorites.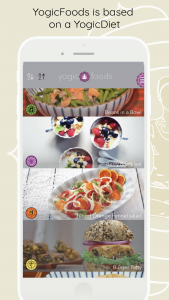 The YogicFoods Global app takes you on a trip and offers classics from around the world adapted to the yogic diet.
Our YogicFoods Baking is filled with sweet and savory bakes. I love to bake and our children love to eat baked goods. As I was experimenting and adapting cakes and cookies to the yogic diet, we knew we wanted to share this with you.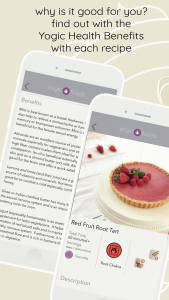 YOUR TURN
What do you think? Did you find any natural candies from our 10 Best Natural Halloween candies list or from the YogicFoods recipes I showed you? We hope our list was useful and that you can get into Halloween mode with a peace of mind. Let us know in the comments what you think and how you handle holidays and candies in your house.
We wish you a Happy Halloween. And remember, just because these snacks and candies are natural alternatives, doesn't mean you can go crazy on them. Eat with awareness always!
Sat Nam and Namaste
Caroline & Gurpreet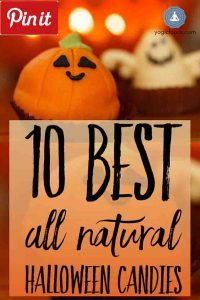 YogicFoods is a blog about yogic foods, yogic diet and living a yoga lifestyle. We believe that family life and work can go hand in hand with a Yogic Lifestyle. We share our experiences, give tips, share recipes and hope to inspire. 
Note: This blog article may contain affiliate links. These links will bring you directly to Amazon and the product page. You pay the normal Amazon prize for this product and we get a small commission from Amazon. This way you support our blog and make it possible to keep blogging and adding recipes to our website and apps. Thank you.
Image by PublicDomainPictures from Pixabay