Creamy Vegan Pumpkin Soup
This creamy vegan pumpkin soup recipe first appeared on our iPhone App YogicFoods Original in 2019 under the name Pumpkin Soup.
The weather turns colder, the leaves are turning brown. It is wet outside and the days are getting darker. On days like this I'm looking forward to cuddle up in a thick sweater and fluffy soft socks. My hands are warming up as they hold a bowl of comforting creamy vegan pumpkin soup.
And here is how you can turn this cozy story into yours. At least for the creamy vegan pumpkin soup part. For this recipe we sauté some root vegetables while we bake cubed pumpkin in the oven. Once soft, we add the pumpkin to the pot with some spices and water. Blending the pumpkin soup makes it creamy and smooth, ready to warm you up inside out. If you need some tips on how to peel a pumpkin, read my post here and you'll be good to go.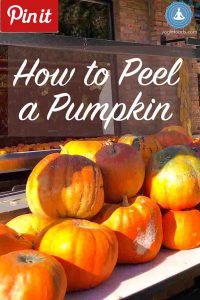 PUMPKIN OR SQUASH?
I will confess I cheated a little here, because I used butternut squash instead of pumpkin. Butternut squash is a wonderful variety of winter squash to cook with. It is sweet and nutty and has a lot less seeds than its pumpkin cousins. The flesh of the butternut squash is also less watery than pumpkin, which made it a winner choice for this creamy vegan pumpkin soup.
SHORT CUTS
As busy parents, we know that it can be challenging to put a nutritious meal on the table every day. So short cuts are our new best friends.
Pre-Cut
Pre-Cut pumpkin or squash is a great way to save some prep time in the kitchen. Make sure you choose organic vegetables, as always. Choose cuts that look fresh as opposed to dried edges or cracked sides.
Pumpkin Puree
Going straight to the pureed pumpkin surely saves a lot of time. Be my guest if that works for you. Obviously the puree won't offer the same depth of taste as the baked pumpkin in this recipe will give, but if it gives you more time to spend with your family, who am I to judge. Be careful not to buy pumpkin puree that has added sugar, though. Another thing you want to consider is buying pumpkin puree from a (BPA free) carton instead of a can.
YOGIC HEALTH BENEFITS
As you are used from Yogic Foods, we will share with you the yogic diet benefits of this creamy vegan pumpkin soup.
Coriander, is rich in vitamins, minerals, anti-oxidants and dietary fiber. This herb is good for the heart and blood.
Garlic is one of the core roots essential to detox and to provide energy to the body. Garlic is also an important potency tonic as it provides many benefits to the reproductive system
Onions are important blood purifiers. They are rich in antioxidants and are very beneficial for the overall health. Onions are known to be a perfect body cleanser. This root vegetable also aids in a healthy heart, lower cholesterol and lower blood pressure. Both onion and garlic are powerful roots for potency and longevity. Their presence together in a recipe amplifies their beneficial effect.
Ginger also has many detox benefits and is an important aid to the nervous system. Ginger combined with honey is very beneficial for a sore throat.
Onion, ginger and garlic are the core roots, also known as the trinity roots, that are essential for detoxing and for providing energy to the body.
Freshly ground black pepper is a blood purifier. It is also an important digestive aid and sprinkled on melons it prevents intestinal gas.
Pumpkins are rich in fiber which is great for the digestive system. They contain many anti-oxidants and vitamins. Pumpkins aid in the prevention of reduced eye function and lung diseases as well as in cholesterol control.
Turmeric is a root which is ground into a bright yellow powder and it is popular in the Indian cuisine. It is beneficial for joints, skin as well as the female reproductive organs and is a very powerful anti-inflammatory agent.
Parsley is rich in vitamins and anti-oxidants. With these nutrients, parsley is a wonderful immune system enhancer, strengthens the nervous system, aids in digestion, is good for the heart and helps prevent the degeneration of the eye function.
SACRAL CHAKRA
The second chakra is the Sacral Chakra or Swadhistana. It is located at the third and fourth vertebra of the spine where the reproduction organs are and therefor also referred to as the Sex Chakra or Sex Organs Chakra. This chakra represents fertility, reproduction and intimacy but also creativity, self-expression, intuition and sensitivity. The Sanskrit name Swadhistana can be translated as "the abode of the self". The symbols stands in a circle with 6 petals and a crescent moon. The moon governs the tides and is tightly connected to the element Water, the element of this chakra.
Imbalances
The water element already suggest most of the aspects of this chakra; fluid, flexible, purifying, flow, adaptive. It represents the creative flow, sensitivity, imagination and self-expression. A balanced Swadhistana makes you adaptable to change and enables you to with the flow. Imbalances can go different directions, either you are too much in the creative flow, unfocused, daydreaming and unaware of the reality around you. Constant crying, intense feeling of sadness, over-emotional reactions or depression are other manifestations of a blocked Sacral Chakra.
Remedy
The element of the Sacral Chakra is water. Listening to water sounds, drinking water, swimming or going to the sea could help increase your practice to unlock your chakra. Maybe you want to place a small fountain in your mediation area. In order to restore balance and regain the power of imagination and creativity, you can do the focus meditation in the meditation tab in the menu. Wearing orange clothes or eating orange foods can also benefit your Swadhistana which resonates on the color orange. We have many recipes that will help you and inspire you to eat in favor of this chakra.
Our Creamy Vegan Pumpkin Soup is beneficial to balance the Sacral Chakra, thanks to its orange color. Soup also contains a lot of water, therefor is a good food for Swadhistana. Turmeric, garlic and onions are ingredients that are said to improve potency and aid the reproductive system of both men and women.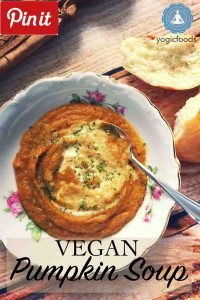 RECIPE FOR CREAMY VEGAN PUMPKIN SOUP
vegan, gluten free, fat free, nut free, egg free, sugar free
Serves: 4-6
Ready in: 50 minutes
10 cups (18 fl.oz/1/2 liter) vegetable broth
2 onions, chopped
5 garlic cloves, chopped
1 inch piece of fresh ginger, peeled and finely chopped
2 lb/1kg butternut squash, peeled and cut in 1 inch cubes
1/4 cup olive oil
1 tablespoon of vegetable oil
1/2 teaspoon turmeric
1 teaspoon coriander powder
1/2 teaspoon sweet paprika powder
salt and pepper to taste
fresh parsley to garnish
To make our Creamy Vegan Pumpkin Soup recipe, start by preheating the oven at 425F/210C. In a large mixing bowl, mix the butternut squash cubes with the olive oil so all pieces are coated. Pour onto a baking sheet. Spread out evenly in a single layer and bake in the center of the oven for 45 minutes. Or until soft and browned.
Next, sauté the onion, garlic and ginger in a large soup pot with 1 tablespoon of vegetable oil. Stir occasionally until the onion is soft and translucent. About 4-5 minutes over medium high heat. Add the spices and while stirring allow to fry, about 1-2 minutes.
Now, add the vegetable broth and the squash from the oven. I like to pour in the olive oil as well, because that has so much extra flavor now. Bring the soup to a boil, give it a stir and turn off the heat.
Lastly, wait until the soup has cooled off and puree into a nice thick soup. You can use an immersion blender or a blender. Season with pepper and salt to taste and serve with chopped fresh parsley. I like this soup thick like this, but if you like it soupier, add some more broth until you reach the consistency you like.
WANT MORE?
We have many wonderful recipes like this Creamy Vegan Pumpkin Soup on our YogicFoods apps. Following a yogic diet has lots of benefits and makes it easier to make healthy choices. Making and eating wholesome food that fulfills and satisfies both your body and your mind is the wonderful gift of the Yogic Foods diet. Yet, it can be hard to know where to start and what to make.
That is the reason why we made these 3 beautiful recipe apps. Full of yogic diet recipes for every day meals, special occasions, savory and sweet treats. Every app has its own fantastic recipes made, photographed and written down by me, Caroline. I love to eat good food every day and I'm sharing it with you through our apps and social media. As a developer and Kundalini Yoga Teacher, my husband Gurpreet, really wanted to give my cooking and the yogic diet in general a platform so YOU could eat as inspiring as we are!
Our YogicFoods original app is the first in our trilogy and filled with beautiful recipes and family favorites.
We made YogicFoods Global to take you on a trip. It offers classics from around the world adapted to the yogic diet following the Sattvic, Rajasic and Tamasic Foods principles.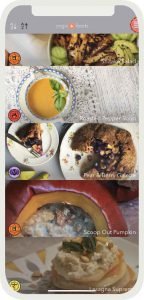 Our YogicFoods Baking app is filled with sweet and savory bakes. I love to bake and our children love to eat baked goods. As I was experimenting and adapting cakes and cookies to the yogic diet, we knew we wanted to share this with you.
YOUR TURN
Well, now you know how to make this delicious Creamy Vegan Pumpkin Soup, it is your turn to make it. If you want to know more about the YogicDiet, have a look here. Do you need inspiration on how to tackle sweets and treats this holiday season? Have a look my 10 ways to Triumph Treats and Snack Time. Looking for conscious and healthier versions of candies to hand out? Read my Ten Best Natural Halloween Candies blog here
Sat Nam and Namaste
Caroline & Gurpreet
YogicFoods is a blog about yogic foods, yogic diet and living a yoga lifestyle. We believe that family life and work can go hand in hand with a Yogic Lifestyle. We share our experiences, give tips, share recipes and hope to inspire.
Note: This blog article may contain affiliate links. These links will bring you directly to Amazon and the product page. You pay the normal Amazon prize for this product and we get a small commission from Amazon. This way you support our blog and make it possible to keep blogging and adding recipes to our website and apps. Thank you.