How to peel a pumpkin
A big pumpkin can be daunting at first. Nevertheless, they are healthy and delicious, so I totally understand that you want to move on from decoration to dinner. Today I will share with you some tips and tricks on how to peel a pumpkin for cooking.
EAT IT OF LEAVE IT?
Pumpkin season is here and pumpkins are everywhere. From decorations to recipes and carved ones outside our front door. Did you know there are hundreds of pumpkin varieties? The stores offer a wide variety of pumpkins this season, some of which you can and some you can not or should not eat. So, the first thing you should do, is make sure the pumpkin you want to buy is actually edible. Whether you know how to peel a pumpkin or not, choosing the right one certainly gives you a head start. Our favorite pumpkin and squash varieties are:
sugar pumpkin
butternut squash
acorn squash
Just remember that the bigger is not always the better. The pumpkins that are grown for their size, to make great Jack-O-Lanterns, are usually not the tastiest. The water content will be much higher and that won't make your puree or dish turn out so great.
GIVE IT A WASH
Some of recipes call for pumpkin with the skin on. For example if you serve baked pumpkin slices that you can eat off the peel right on your plate. Our Acorn recipes with ginger and carrot dressing is one of those.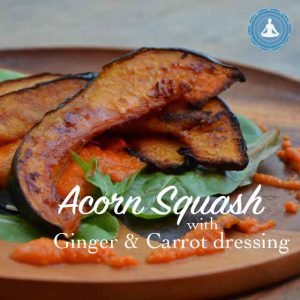 Whether with skin or without, you should wash the pumpkin first. The reasoning behind this is, that you push the outside dirt through the peel and into the pumpkin when you are cutting. If that doesn't sound to hygienic to you, you are right. Side note, this also counts for example for avocados, which are generally not washed, because no one eats the skin. So, now back to How to Peel a Pumpkin
HOW TO PEEL A PUMPKIN
You can peel a pumpkin in two ways, raw and cooked. Raw requires some knife skills, because cutting through the tough skin can be, well, tough. Cooked is easier and although you still have to cut the pumpkin or squash in half, after that it is much easier.
HOW TO PEEL A PUMPKIN COOKED
If you want the flesh for a pumpkin pie, cut the pumpkin in half from top to bottom. Scoop out the pumpkin fibrous strings and seeds with an ice cream scoop or large spoon. Place the pumpkin halves on a baking sheet, hollow sides facing down, and bake in a 375F/190C oven until the flesh is soft and it can easily be removed with a fork.
Baking times really depend on the size of your pumpkin. I would say, start out with 15 minutes for a small one, 30 for a medium one and 45 minutes for a large one. After your timer goes off, just check if the pumpkin is fork soft and give it some more time in the oven if needed.
After you have cooled off your pumpkin, you can scoop out the flesh or peel off the skin, depending on what you want to make with it.
Here are some wonderful recipes to make with your peeled pumpkin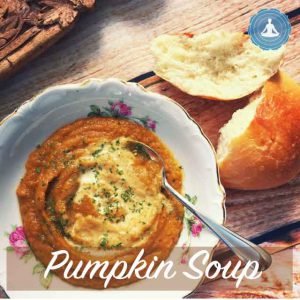 HOW TO PEEL A PUMPKIN RAW
The other way to get the tough skin off is by peeling it raw. This requires some knife skills, as mentioned, because the shell can be really hard.
For starters, cut the pumpkin in half side to side, horizontally. Again, scoop out the strings and seeds. Place the pumpkin halves with the flat side down on your cutting board, so your pumpkin doesn't wobble away from under your knife as you try to peel it.
Next, you can either cut the pumpkin in strips and peel the individual strips. Peel with a knife or a vegetable peeler. Be sure to place the strips on their sides and to cut down to the cutting board if you do this with a knife. It is not an apple you can peel in your hand. This way of peeling a pumpkin would be useful if you want cubes for stews or curries.
The other way you can peel a pumpkin is to slice off the skin from top to bottom, holding your knife at an angle and following the curve of the pumpkin. This way the shape of the pumpkin halves remain in tact.
HOW TO EAT PUMPKIN WITHOUT PEELING
For those of you who want to eat pumpkin, but do not want to peel at all (although now you do know How to Peel a Pumpkin), we have this delicious pumpkin soup recipe on our YogicFoods App that requires no peeling. You eat it right out of the pumpkin itself.
WANT MORE?
We have many wonderful recipes with pumpkin on our YogicFoods apps. Following a yogic diet has lots of benefits and makes it easier to make healthy choices. Making and eating wholesome food that fulfills and satisfies both your body and your mind is the wonderful gift of the Yogic Foods diet. Yet, it can be hard to know where to start and what to make.
That is the reason why we made these 3 beautiful recipe apps. Full of yogic diet recipes for every day meals, special occasions, savory and sweet treats. Every app has its own fantastic recipes made, photographed and written down by me, Caroline. I love to eat good food every day and I'm sharing it with you through our apps and social media. As a developer and Kundalini Yoga Teacher, my husband Gurpreet, really wanted to give my cooking and the yogic diet in general a platform so YOU could eat as inspiring as we are!
Our YogicFoods original app is the first in our trilogy and filled with beautiful recipes and family favorites.
We made YogicFoods Global to take you on a trip. It offers classics from around the world adapted to the yogic diet following the Sattvic, Rajasic and Tamasic Foods principles.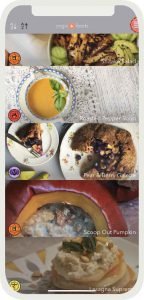 YogicFoods Baking is filled with sweet and savory bakes. I love to bake and our children love to eat baked goods. As I was experimenting and adapting cakes and cookies to the yogic diet, we knew we wanted to share this with you.
YOUR TURN
Well, now you know How to Peel a Pumpkin, it is your turn to make some wonderful pumpkin and squash recipes. If you want to know more about the YogicDiet, have a look here. Do you need inspiration on how to tackle sweets and treats this holiday season? Have a look my 10 ways to Triumph Treats and Snack Time. Looking for conscious and healthier versions of candies to hand out? Read my Ten Best Natural Halloween Candies blog here
Sat Nam and Namaste
Caroline & Gurpreet
YogicFoods is a blog about yogic foods, yogic diet and living a yoga lifestyle. We believe that family life and work can go hand in hand with a Yogic Lifestyle. We share our experiences, give tips, share recipes and hope to inspire.
Note: This blog article may contain affiliate links. These links will bring you directly to Amazon and the product page. You pay the normal Amazon prize for this product and we get a small commission from Amazon. This way you support our blog and make it possible to keep blogging and adding recipes to our website and apps. Thank you.