Summer. As the sun shined down on us, the bright rays warming our skin, it brought back childhood memories of summer vacations and splashing in the water. The hot summer day made us thirsty and hungry for popsicles. As a kid, my mom would take me out to town to eat ice cream and we would sit down and enjoy our treat together. That hot summer day, I wanted my children to have that too. So I made my own popsicles – the yogic diet way.

Fun Sweet Popsicles

Popsicles come in all shapes, forms and sizes. Some are creamy, some are fruity. Popsicles are colorful and fun. They come swirled or multi-colored, sometimes only red or green or orange. My favorite popsicles are the creamy ones. My husband prefers the fruity popsicles. The kids… they like them all!
My mom had quite a sweet tooth and besides the softies and ice creams we would get in town, we had popsicle sticks in the freezer. This was a colored sugar water in long plastic pouches. Once frozen you would cut open the pouch, pushed out the popsicle stick and start sucking your sweet treat. The fact that I still remember it means something, right? Could I make something that would bring the same happy memories to my family, but by following the yogic diet?
If you want to know how we follow the yogic diet and are curious about what we eat in a day, read our blog "what we eat in a day, the yogic diet way" right here. We also post recipes, meal inspiration and lifestyle tips on social media. Follow us on Instagram or Pinterest and stay tuned about new vegan and vegetarian recipes with a yogic twist. Check out our YouTube channel for yogic diet recipe videos or download our YogicFoods Apps to have access to an amazing collection of recipes, meditations, chakra food, health benefits and much more.

5 Top Popsicle Tips

1. Blend don't squeeze
Fruit pulp is tastier than fruit juice. It gives more consistency and it is healthier too as you eat the whole fruit. So blend your fruit rather than to juice it. Soft fruits like berries, stone fruits like peaches and exotic fruits like mango are great for this.
2. Fancy pops
Add some sliced fruit to make your popsicle look fancy and amazing. This may not work so well for kids, but for a grownup party or picnic it will look – and taste – great. Place your sliced fruit in the popsicle mold first, than pour in your filling. Once frozen it will appear on the outside of your popsicle.
3. Use ripe fruit
Use really ripe fruit. I find popsicles to be a great way to use up bruised and (slightly) overripe fruit. They are extra juicy and don't look appealing enough to serve as a snack. So in the mold they go! Ripe fruit does not only give more juice, they are sweeter too! This way you don't have to add more sugar and you can keep to your yogic diet.
4. Frozen fruit
Frozen fruit works too! You can buy frozen (organic) fruit at the grocery store. Or you can freeze your own fruit. Say, you have a ton of fruit and won't be able to eat it all before it goes bad, freeze it. I suggest sorting the fruit that are really ripe or close to overripe for freezing. Then, once you use them, you have sweet, ripe, juicy fruit.
5. Don't mind too much
Don't worry if you make too much popsicle filling. Not all molds are the same, so it can happen you have leftover filling. Just pour it in a glass add a straw and drink it! It is going to be delicious. You can also pour it in a container and refrigerate it. Once your popsicles are frozen, take them out and put them in a freezer container or freezer bag. Now fill the mold again with the leftover filling.

Popsicle molds

Choosing your popsicle mold
There are so many great, cute, colorful, funny and amazing popsicle molds to choose from. They would make gifts too! While I was writing this post and experimenting with popsicle recipes, my molds actually broke! I guess I used it too much. The recipe photos are of popsicles I made with my old mold. These are the molds I bought after mine broke as well as some great looking ones I thought you'd like.
When you choose a popsicle mold, make sure it is BPA free. If you aren't familiar with BPA, type it into Google or read up on it here. I can assure you that BPA is not part of the yogic diet, even though there wasn't any around when the yogis came up with yogic foods guidelines. You can also choose stainless steel molds like these.
You also want to decide whether you prefer biodegradable wood sticks or reusable plastic sticks. The wood sticks are natural, but do require trees and are thrown afterwards. The plastic stick can be reused, but are not natural and once thrown are not biodegradable. I don't have the answer here, you choose.

Removing the popsicle from the mold

There are a few ways to get your popsicle out of the mold.
Run it under cold water then gently wiggle it out. That should do the trick really fast. If not, run under cold water again. Don't be tempted to use warm water, that will melt your popsicle.
Hold it in your hand. The warmth of your hands will slowly melt the outer layer and release the popsicle from the mold.
If you choose a (BPA-free) silicon mold, you gently fold back the mold and release the popsicle that way.

Creamy pop or fruity pop

Everyone has their favorite. What is yours?
Fruity
Fruity popsicles are filled with fruit. Choose the right fruit, because it makes a big difference. Apples won't work so well, nor can I imagine fig or jackfruit popsicles. You need juicy and naturally sweet fruit. Skip fibrous fruit, like apples. Do choose berries (strawberries, raspberries), melons, mango. Stone fruit like peaches and nectarines will work great, but apricots are generally dry and would not work so well.
Creamy
Creamy popsicles are creamy, because they contain more fat than water. Don't be mad, there are healthy fats too! Greek yogurt, almond butter, coconut milk even avocados are great for making creamy popsicles. Bananas add a creamy texture without adding fat. I know not everyone is on the banana boat, but it gives great results and bananas are actually a yogic food.
Both
Now we're talking! Creamy popsicles are great, but even better when mixed with fruit. Think peach, mango, yogurt. They are easily made into a chocolate popsicle with some cacao, think avocado, banana almond butter and cacao. It gets really interesting when you mix the creamy chocolate with cherries or raspberries. Or add orange, it is a classic for a reason. This is my favorite. Try making your own combinations and let me know what your favorite is.
If you like Chocolate and Cherries, but aren't in the mood for popsicles, try this yogic foods cake I made. It has a bit of a kick, but it is the most delicious cake, I promise everyone will want to be at a yogic diet after eating this!

Make it fit the yogic diet

To make popsicles fit into your yogic diet, be aware of the ingredients you use. Here are some tips you can follow.
Organic
Focus on the fruit first, make sure it is organic. You can buy organic food on the farmers market, the organic section of your grocery store or have them delivered through subscription groceries like imperfect foods or misfits.
Pure
Make sure you only choose pure ingredients. When you buy popsicles, look at the ingredients. When you make them yourself, go for whole foods and pure ingredients. With that I mean no food coloring or synthetic flavorings.
Go for better
Ditch the usual toppings and ingredients and choose healthy alternatives. Don't know where to start, here are some ideas; yogurt over cream, cacao powder over chocolate sauce, fruit over sugar syrup
Naturally sweet
To make your popsicles the yogic diet way, avoid sugar or artificial sweeteners. If you use ripe fruit, you won't need any extra sweeteners. Creamy popsicles tend to be a bit less sweet, even with added fruit. Choose dried fruits to make it sweeter. If you really want to, choose honey, agave or date syrup to sweeten up your pop. Just remember that sweetness satisfaction is a habit. You can train your tastebuds to get used to less sugar.
Spice it up
Even your sweet treats can have beneficial herbs or spices. You can use them to enhance the taste of your popsicle. You can also choose to let the herbs and spices do their magic in secret. Add a bit of turmeric to your mango, peach, yogurt popsicle or add some mint to your strawberry fruit pop. You can add some ginger or chili to a creamy chocolate popsicle. Try it and experiment a bit.
These recipes I'm sharing here proof that yogic diet popsicles are amazingly delicious and beat those childhood frozen sticks by far!

Recipes

I have two recipes to share with you; one creamy, one fruity popsicle. And a little surprise at the end. So stay tuned!
Berries & Orange Popsicles
1/2 cup strawberries chopped
1/3 cup raspberries
1/3 cup blackberries
1/2 cup fresh orange juice
1tbsp agave syrup (optional)
Makes: about 6 popsicles
Takes: 5 minute, plus freezing
Put all the ingredients in your blender and pulse a few times until smooth. Depending on your mold, either put the popsicle stick in first or after pouring your filling. Allow to freeze and enjoy!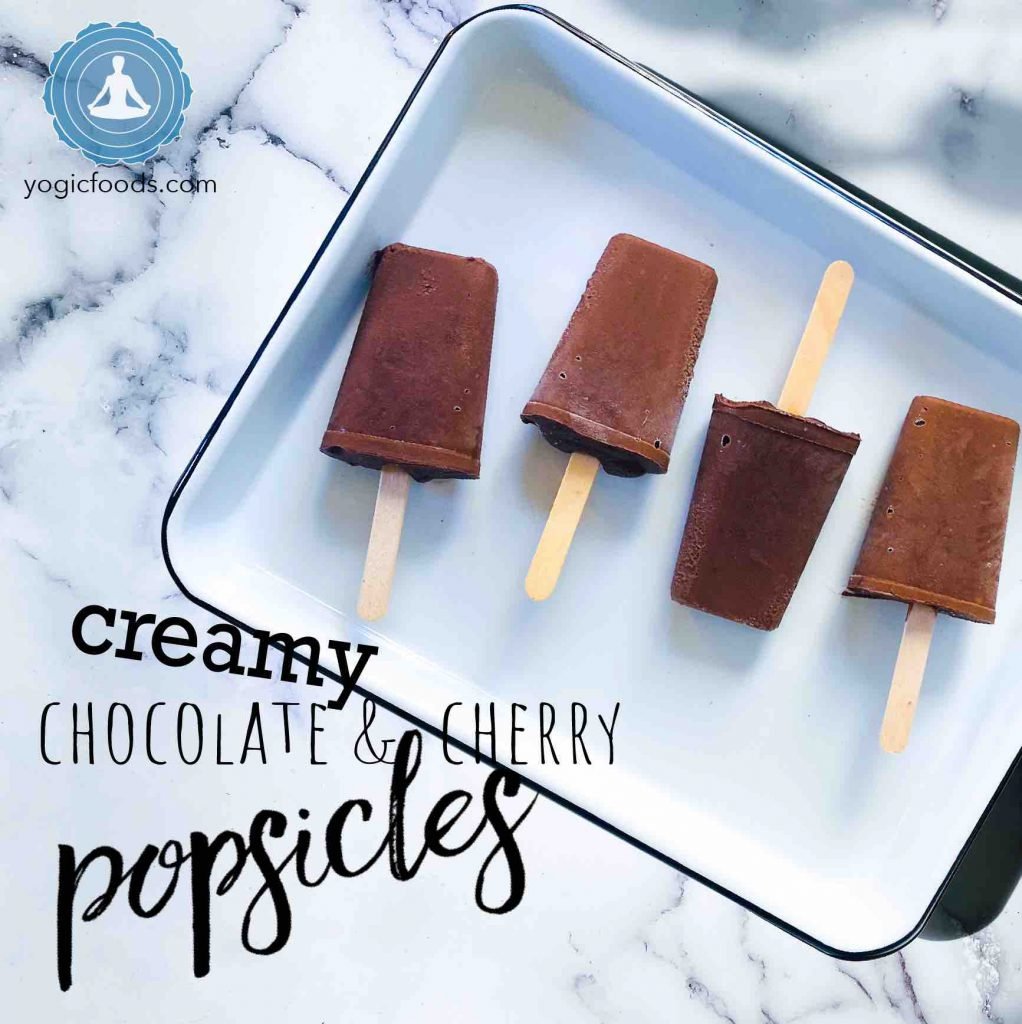 Creamy Chocolate Cherrie popsicle
1 banana
3/4 cup pitted cherries
1/2 avocado
5 tbsp Greek yogurt
5 tbsp coconut milk
4 medjoul dates (or 7 regular dates) chopped
1 tbsp almond butter
3 tbsp cacao
1 tsp vanilla
Makes: about 6 popsicles
Takes: 5 minutes plus freezing
With all the ingredients in your blender, pulse until smooth. Depending on the molds you use, either put in the popsicle stick first or after. Freeze, enjoy!

An extra treat
If you don't have popsicle molds, but still like to enjoy a cold treat consider making a milkshake. This one is vegan and has no added sugar. A delicious and health conscious cold treat. My gift to you 🙂
Strawberry & Mint Milkshake
2 frozen bananas
2 cups frozen strawberries
1 cup coconut milk
2 tbsp almond butter
2 tsp vanilla
2 tbsp chopped mint
plus mint for garnish
Makes: 2 large servings
Takes: 5 minutes
Put all the ingredients in the blender, pulse until smooth. Divide over two glasses and enjoy cold.

I hope you enjoyed our recipes and tips on how to make popsicles following a yogic diet. Our apps have a lot of wonderful treats and snacks as well as breakfast, lunch and dinner recipes – all vegan or vegetarian with a yogic twist.

Have fun making them and enjoy eating them!
Sat Nam and Namaste
Caroline & Gurpreet

YogicFoods is a blog about yogic foods, yogic diet and living a yogic lifestyle. Live the way you think is best for you. We share our experiences, give tips, share recipes and hope to inspire.
Note; This blog article contains affiliate links. These links will bring you directly to Amazon and the product page. You pay the normal Amazon prize for this product and I get a small commission from Amazon. This way you support our blog and make it possible to keep blogging and adding recipes to our website and apps. Thank you.