What we eat in a day, the Yogic Diet way
As the creators of YogicFoods, writing recipes and making cooking videos and food photos is a daily routine. So we must be eating a lot of beautiful Yogic Diet dishes, right!? Well, the answer may surprise you! Just like you (most likely) we are also juggling family life, homeschooling, household tasks and our 9-5 job. So I totally get it when you say 'Caroline, I don't have time to cook these yogic foods'. So, to inspire and motivate you, I'm sharing what WE eat in a day, the Yogic Diet way!
I have news for you. Cooking according to the yoga diet doesn't have to be a time consuming effort. In fact, you can eat a simple meal, maybe not that different than what you normally eat. Being aware of your food choices and of the ingredients you use is a great start. Read on for tips, tricks and inspiration.
Another important factor of the yoga diet is sattvic, rajasic and tamasic foods. This is a yogic categorization of foods, dividing them into sun foods, stimulating foods and regressive foods. In another blog post more I will talk more about that.
Food for thought
Before I share with you what WE eat in a day, I would like to share some thoughts and basic tips to make you feel confident that you've got this!
First, do not feel overwhelmed. The fact that you are here on our site, looking at recipes, getting inspired, means you are already on the right path. Yogic Foods, or the yoga diet, as said, is more about the wholesome, plant based ingredients and the healing properties of the spices and herbs than about spending hours and hours making everything from scratch.
Second, most importantly, be kind to yourself. If you really have no time, eat that cheese sandwich. Just choose a slice of whole grain bread and add some salad greens, tomatoes and cucumber. Maybe just swap the cheese for hummus and avocado. Every day is a new day to try again. You'll get there little steps at the time
Third, cheat. That is right, cheat. Make a big pot of pasta sauce, then take out half and add corn, beans and taco seasoning. To the first half add zucchini, eggplant and mushrooms. Now you have two meals ready for the week; One pasta sauce and one TexMex sauce to serve with rice, guacamole and some salad. The leftovers of this sauce make a great soup, just add some water or broth and serve it with some toasted whole grain bread for lunch. This way you can also use leftover rice from the night before to make fried rice for lunch, just add some chopped veggies and maybe some nuts or pineapple. In Asia – the birth-ground of the Yogic Diet – fresh every meal is the way to go. If you can do that, that is fantastic, if you cannot, use leftovers.
Make a meal plan. If you are like me, after you have been busy all day, you are likely to have no creative brainpower left to think of what to make. Doing the thinking ahead of the week helps to know what to make. Moreover it helps to buy the ingredients you will need, so there is less waste. And lastly you can plan when to eat meals where you reuse sauces or bases you already made.
So, What DO we eat in a Day?
Morning time
We start the day with Chai. Gurpreet, that is, I drink herbal tea. I wake up early at 6-6:30 and start making Indian Milk Tea. I do this in a pan and I add ginger and turmeric to the tea. Sometimes I change things up a bit and add cardamom, star anise or cinnamon and black pepper. As a sweetener I use honey or agave. In India I use Ghur or Jaggery in winter. It is the ginger, turmeric and other spices that add the "Yoga" to the "Diet". To get our Chai recipe, see our blog here: or watch the video here:
Breakfast time
For breakfast we eat either yogurt and fruit, smoothies or toast and in winter oatmeal. See, not so very different from what you might be eating. We make sure our ingredients are always organic. We also don't like to buy flavored yogurt as they tend to contain a lot of sugar. So plain yogurt and mixed fruit it is, add some honey and it's delicious. Our smoothies are usually Lassi for the kids, which is an Indian smoothie. I blend yogurt, mango and/or banana some turmeric and some water. I also make an after workout or after yoga smoothie of almond milk, frozen banana, frozen kale and almond butter. Toast is whole grain with some butter and honey or fruit spread (sweetened with fruit juice, not sugar). Also here the ingredients make it yogic. Yogurt, almonds, turmeric, whole grains… The yogic diet is hidden everywhere 🙂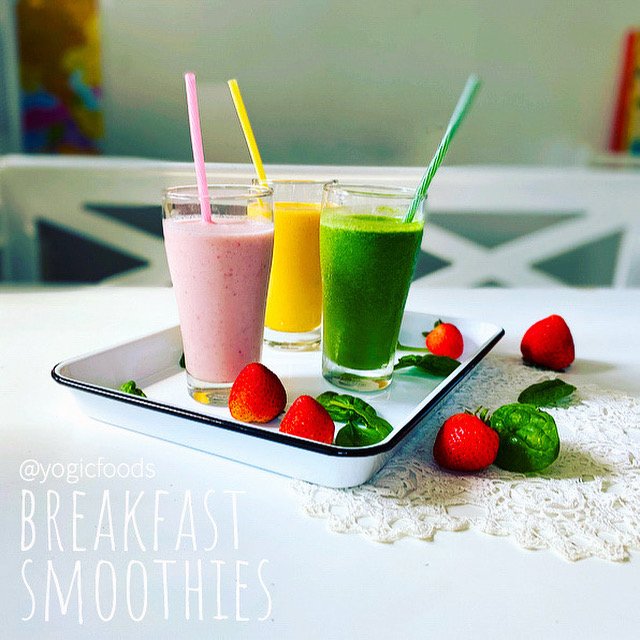 Snack time
As a morning snack we eat an apple. I just cut some pieces and give everyone a little bowl. Sometimes I give almond butter with the apple. Now that it is summer we have watermelons, pineapples and other delicious fruit and berries aplenty so it may be those instead. It only has to be light, just enough to make it to lunch. Obviously fruit is a yogic food.
Lunch time
For lunch I try to make something simple, yet nutritious and delicious 🙂 I usually either use up left overs or I make what I planned earlier in the week. Go to's are chickpea and potato salad, fried rice with veggies, poha, celery chickpea pancakes, or just a salad or soup with avocado or hummus toast. You can see, how I make eating Yogic Foods about making wholesome choices, (chickpeas, rice, whole grains) using beneficial spices and herbs (turmeric, cumin, coriander, mint, celery, parsley, black pepper) and natural foods (unprocessed food, fresh veggies, fresh fruit).
Today it was Poha. This is a flattened rice that cooks super fast. It is a marvelous addition to your kitchen pantry, because it allows you to have lunch or dinner ready in no time. Just pour Poha in a mesh strainer and wet it through. Then let it sit until needed. Add some chopped onions or leek rings to warm oil in a frying pan. Add some ginger if you like. I usually add some chopped celery too. With the lid on and over low-medium heat I wait until the veggies are soft. Then I add a handful of peas and spinach (frozen or fresh whichever is easier). And a chopped up tomato. Now for spices. I love this Madras curry I buy from Whole Foods which is great with Poha, also I add paprika powder, black pepper and salt. Usually that is it. Stir it around and add the Poha from the strainer. Mix it all through until warm. To make it extra tasty, add chopped mint, coriander chutney, fresh cilantro or hot sauce. Remember, the healing spices and herbs really help to maintain a yogic diet (ps it's tastier that way too!).
Snack time
In the afternoon we have a snack too. Especially the children need to eat in between meals. So we have fruit, apple sauce, fruit and veggie pouches (they are well beyond baby age, but still love it!), healthy cookies, Lärabars, fruit bars, dried fruit and nuts, healthy choice popcorn or I make "nice cream" on hot days which is basically frozen bananas and coconut cream (plus what you like; strawberries or cacao powder for example) blended together in my NutriBullet.
Children are children and they will always be drawn to sugary things with bright colored sprinkles and frosting in the colors of the rainbow. It is needless to say, these kind of snacks do not fit into a yogic diet. So I try to make yogic foods versions of snacks and treats they would like. Nevertheless, they always keep trying to asking about those chocolate bars and cupcakes…(sigh). Good news is! I do have my ways, tricks and opinions to keep the kids happy while not feeling guilty or shall I say successful in maintaining balance. Read my blog about this on the site.
In the meantime, to make snack time choices easier for you, here are some snacks we buy.
Dinner time
For dinner I always try to make something easy to eat, because we have small children. So a salad would not help us much. I love to draw inspiration from Asian cuisines, because I love spicy food. But that also isn't as easy with children. So, what DO I make? We usually have a day of pasta, with a salad of greens or tomatoes and cucumber. We always have a day of Indian food, that can be a simple kichari (lentil and rice stew) or Rajma Chawal (kidney beans stew with rice) or chickpea curry with naan. Sometimes it is pan fried potatoes and stir fried or roasted vegetables. On Fridays we always eat burgers. Veggie burgers, of course, with roasted potatoes and a salad or with roasted cauliflower.
Today it was cauliflower gnocchi with a veggie filled pasta sauce, salad and oven grilled eggplant. Delicious and easy to make. The leftover sauce will be used later this week for rice and sauce with some hummus and Greek yogurt and maybe some naan.
I do not always make everything myself. I buy the naan bread frozen at Whole Foods. I make hummus, but I also buy it, to save time. Gnocchi I could make myself, but is that worth the time? So I buy that too. Sometimes I make the pasta sauce with fresh tomatoes, sometimes with canned tomatoes and sometimes even with a sauce. The one thing I always look out for is Organic food. And I am particular about the amount of sugar we eat. Organic cookies are still cookies. I will post a separate blog about following a Yogic Diet with children and how to follow a Yogic Diet while traveling.
Here are some dishes we eat for dinner;
Here are some great kitchen helpers I got to make dinner prep easier and happier. If you like I will post a blog about what I use in my kitchen or in my morning routine. Tell me what you would like to know!
Your turn
So you see, cooking according to the yogic diet on a daily basis isn't as complex as it may sound. The trick lies in the ingredients you choose, the plant based diet, the organic wholesome foods and the healing properties of the spices, herbs and fresh veggies. Our YogicFoods Apps can help you get inspired, meal prep and choose healthy meals and snacks. Check them out!
I hope you enjoyed our "What We Eat in a Day, the Yogic Diet way" post. What do YOU eat in a day? Let us know. Follow us on social media for lunch ideas, dinner inspiration, healthy breakfast options, snacks and more about the yogic diet, yogic foods and yogic lifestyle.
Sat Nam and Namaste
Caroline & Gurpreet

YogicFoods is a blog about yogic foods, yogic diet and living a yogic lifestyle. Live the way you think is best for you. We share our experiences, give tips, share recipes and hope to inspire.
Note; This blog article contains affiliate links. These links will bring you directly to Amazon and the product page. You pay the normal Amazon prize for this product and I get a small commission from Amazon. This way you support our blog and make it possible to keep blogging and adding recipes to our website and apps. Thank you.