gluten free, sugar free, no white butter, egg free
This recipe first appeared on our iPhone App YogicFoods Baking in 2019
Summer reminds me of sweet juicy strawberries. I love strawberries. And black berries, blue berries, mulberries in fact I think I like ALL berries. Maybe one day we can plant our own strawberries so the children can pick them themselves. I remember doing that as a child and it is such a wonderful experience. Most strawberries disappeared in the mouthes before they made it to the basket. But isn't that all part of the fun and making memories?
This Strawberry Root Tart, with its beautiful red color really pays tribute to Muladhara. As you may know, the color of Muladhara is red. As red as these strawberries. Strawberries get their color from the sun, but as they grow very low to the ground they are still considered Rajasic. They resonate the earths vibrations. Apples and oranges would be Sattvic, growing close to the sun. Tamasic foods are regressive foods that take the mind away from focus and awareness, like meat and alcohol. Even sugar is in this category. That is why, although not baked with refined sugar, this tart is still sweetened and should be enjoyed in moderation.
I used this gluten free almond crust which my family loves. That being said, I also have a whole wheat crust recipe that I made for the Blue Berry Tart which I will post in a separately soon (guessed the color of that one?). You can omit the mascarpone and use a filling completely made of Greek yogurt, but the mascarpone does give it a creamier texture.
We have added a lots of fantastic tarts and summer cakes to our apps. Click here to check out our apps on the App Store for more Vegetarian and Vegan recipes with a Yogic twist.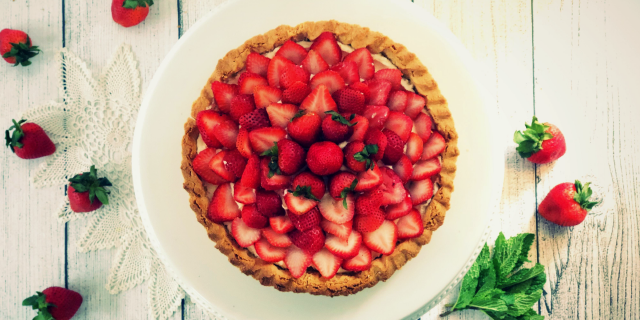 As you know by now, we love to share how the ingredients are beneficial to your body according to the Yogic Diet. So here is a little insight into the health benefits: http://bit.ly/yogicfoods
Almonds are an excellent source of protein and minerals especially for vegetarians and vegans, their high fiber content makes them ideal for solving constipation.
Ghee or Indian clarified butter has many benefits for the sexual nervous system and is an important potency tonic for men.
Lemons and limes (and their juice) are a good source of vitamins and minerals. Hot lemon juice is great for to combat a cold especially combined with honey.
Yogurt (especially homemade) is an essential daily supplement for lacto-vegetarians. It helps in maintaining a healthy nervous system and nourishes the intestinal flora as it rich in bacteria that aid the body in digestion.
Maple syrup is a natural, vegan sweetener with a high content of antioxidants, which aids in cases of inflammation. It is also beneficial for the immune system.
https://bit.ly/YogicFoodsYouTubeI hope you are going to make this Strawberry Root Tart, it really isn't so hard, just a few steps to follow. And it looks very impressive and beautiful. Make sure your strawberries are ripe, so they are really sweet. You can visit our YogicFoods Channel for all kinds of recipes, from vegan Calm Down Celery Pancakes to Roasted Potatoes or our delicious Cauliflower Power from previous posts. For now, here is how to make our Strawberry Root Tart!
Ingredients:
1/2 cup gluten free all purpose flour
1 1/4 cup almond flour
1/4 cup flax meal
1/4 cup maple syrup
4 tablespoon ghee (soft, not liquid or hard)
1 tablespoon flax meal
1/4 teaspoon salt
For the filling:
1/4 cup mascarpone
3/4 cup Greek yogurt (I used 0%)
1 1/2 tablespoon maple syrup
2 teaspoons lemon juice
1 1/2 – 2 cups strawberries (1lb/450gr) washed and dried
Start by making the flax egg by mixing 1 tablespoon of flax meal with with 2 tablespoons of water. Let it sit and become gooey for 5-10 minutes. Mix the ingredients for the crust and the flax egg together with a wooden spoon, until it sticks together like a big ball. Wrap the dough ball in plastic wrap and flatten to make a disc. Set aside in the fridge for about 20 minutes. Preheat the oven at 350F/175C. Grease a 9"/23cm tart pan (with removable bottom). Unwrap the dough and push it with your fingers and knuckles in the tart pan and up the edges. I use the plastic wrap to spread over the dough to prevent it from sticking to my fingers. Pierce the bottom several times with a fork and bake for 25 minutes. While it cools off on a wire rack, stir together the mascarpone, Greek yogurt, lemon juice and maple syrup with a (wooden) spoon. Once the tart is completely cool, spread the filling evenly over the crust. You can refrigerate the tart to set or decorate now with the strawberries.
Great job, you just made a wonderful Strawberry Root Tart. It's yogic delicious!
Happy eating and baking!
Sat Nam and Namaste,
Caroline & Gurpreet